Safeguarding
Your child's safety is of paramount importance to our school and we have clear and consistent procedures in place to ensure that your child is safe. The staff have every child's welfare at heart of the support and care we offer and are willing to listen when they want to discuss a problem.
Through raising awareness and regularly reviewing out practice, we want try to ensure our school is a place where children and adults are safe from harm. We regularly monitor and promote our safeguarding provision to meet all the statutory requirements.
We believe that everyone should be treated equally and accepted openly. Staff and Governors work towards ensuring that all aspects of school life are "fair" and "safe" for children, staff, parents/carers and the wider community.
We have a range of policies in place in school that are designed to achieve a fair, safe and harmonious environment. Policies provide guidance on the expected acceptable standards of behaviour of all staff, governors, children and adult visitors to our school. Please click here to view the Child Protection Policy.
To discuss any safeguarding issues, please speak to your child's teacher or one of our designated safeguarding leads.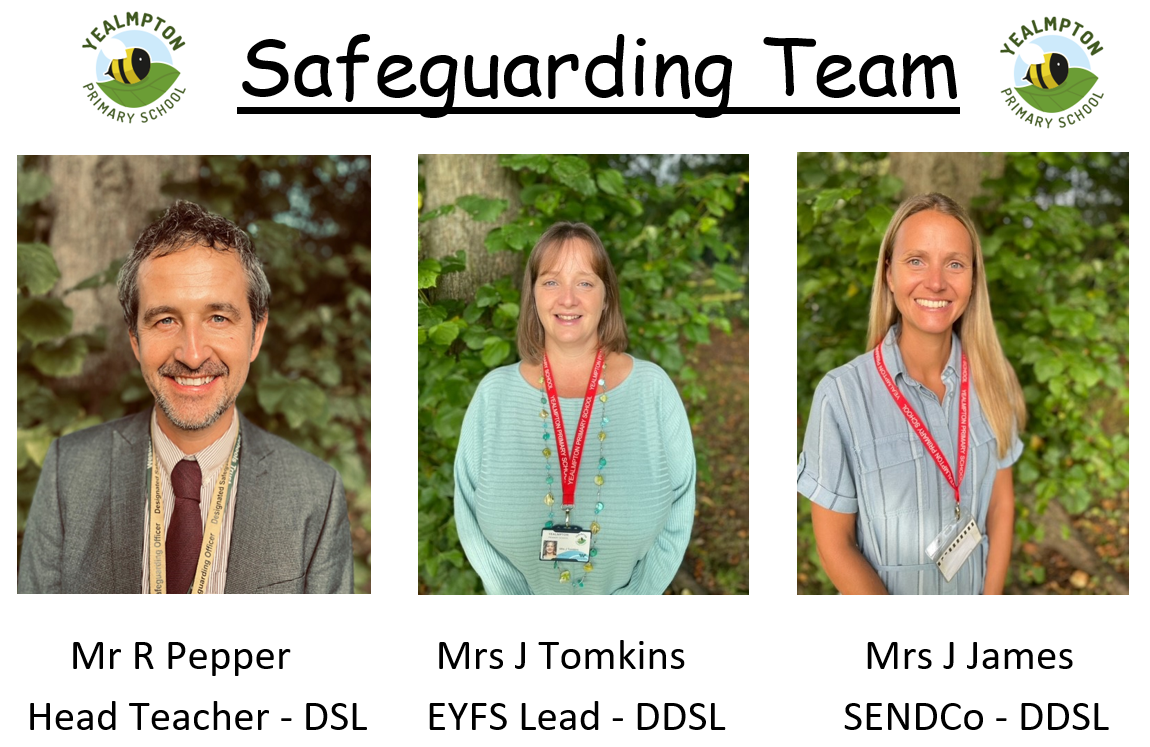 Please see below lots of the one minute guides from Babcock LDP linked to Safeguarding. For all of the one minute guides please see https://www.babcockldp.co.uk/safeguarding-and-compliance/safeguarding/one-minute-guides
If you need support this can be found through the NSPCC website or by using their hotline number on 0800 136 663.
Click here to access our Online Safety Page.
Mr Pepper, Mrs Tomkins and Mrs James can be contacted via the school office on :
01752 880446 or admin@yealmpton-primary.devon.sch.uk
Key People
Rob Pepper - Designated Safeguarding Lead (Head Teacher)
Julie Tomkins - Deputy Designated Safeguarding Lead (EYFS Lead)
Jenny James - Deputy Designated Safeguarding Lead (SENDCo)
Iain Grafton - Safeguarding Trustee
How can parents help with keeping children safe?

How can parents help with keeping children safe?
Make sure all addresses and contact numbers are up to date
If someone different is picking your child up, please let us know
Be at school on time every day
Notify the school about your child's absence – unexplained absences are a key trigger for concern
Take full note of the advice to parents if you are accompanying a class trip
Share any concerns you may have about another child with a member of staff or one of the designated safeguarding team
Operation Encompass

We are an Operation Encompass school.
Operation Encompass connects the police with schools to secure better outcomes for children who are subject or witness to police-attended incidents of domestic abuse. Rapid provision of support within the school environment means children are better safeguarded against the short-, medium- and long-term effects of domestic abuse.
Operation Encompass provides an efficient, confidential channel of communication between police forces and Key Adults within schools. This enables the immediate and discrete recognition of the child's situation by the Key Adult, ensuring a secure and sympathetic environment is provided and the broader effects of abuse are addressed.
This means that at Yealmpton Primary School a member of the school staff, known as a Key Adult, is trained to allow them to liaise with the police and to use the information that has been shared, in confidence, while ensuring that the school is able to make provision for possible difficulties experienced by children, or their families, who have been involved in, or exposed to, a domestic abuse incident.
https://www.operationencompass.org/