Yealmpton Annual Garden Show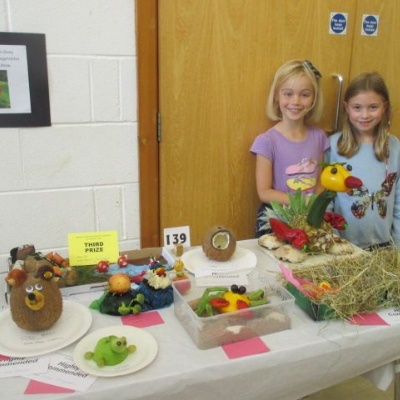 Fantastic display of entries by The Garden Gang and other children from Yealmpton Primary School.
There was a fantastic display of vegetable animals and decorated eggs created by children from Yealmpton Primary School at the Annual Yealmpton Garden Show in tThe Community Centre on Saturday 9th September. Well done to everyone who took part and congratulations to all the children who won prizes for their amazing creations. Many visitors to the show also commented on potatoes grown in the Great Yealmpton Primary School Potato-growing Competition which were also displayed along with the results for each class. Rosettes were awarded to the classes which grew the largest potato, the most potatoes and the heaviest crop. Oak class were judged to be the overall winners due to the size and quality of their potatoes. They have been awarded the Shirley Sparrow Trophy in recognition of this achievement.
The Garden Gang also entered several classes in the show, winning prizes for the heaviest marrow (2nd prize), the tallest sunflower ( 1st prize), 2nd prize for their carrots, 1st and 2nd prizes for edible squashes and 3rd prize for their 5-a-day plate. All the fruit and vegetables they entered had been grown in the school vegetable patch with guidance from Dug from YAGA and Mrs. Collins. The potatoes and other vegetables grown by the Garden Gang will now be given to the school kitchen so that Mrs Dean can cook them as part of our school dinners.