Yealmpton Annual Garden Show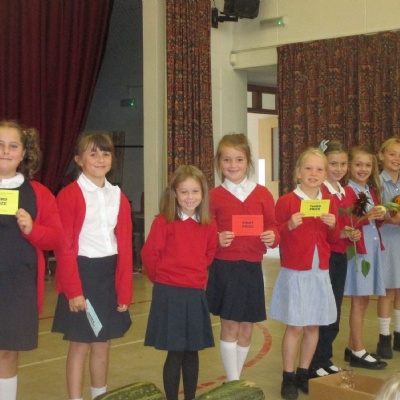 Fruit and vegetables grown by the children in our school orchard including marrows, pumpkins, potatoes, rhubarb, apples and sunflowers made a fantastic show in the community centre.
On Saturday, fruit and vegetables grown in the school orchard were entered in the Annual Yealmpton Garden Show along with many exhibits by the Yealmpton community. We won several prizes for our enormous pumpkins and marrows and the tallest sunflower in Yealmpton. Many children also created vegetable animals and decorated eggs and plates to enter in the show, winning prizes ranging from highly commended to first, second and third.
The potatoes grown by each class in our Potato-growing competition were also on show with prizes being awarded for the most potatoes grown, the heaviest individual potato, the heaviest crop and the best crop overall. These will now be cooked in the school kitchen as part of our school dinners.